Qboxmail offers a business email management service in cloud for resellers, companies, or freelancers who are looking for a professional email service with custom domain name.
In addition to management tools, including the control panel and Webmail, we have developed other complementary features, such as Mail Time Machine and Email Archive, completing our package.
Each customer can decide to create mailboxes by adding one or more domains to the control panel. For each domain, you can choose between 3 plans that have different functionalities:
Basic
Professional
Enterprise
The chosen plan allows you to have mailboxes with more or less features. This article will focus on the features of the Professional plan.
Features and benefits of the Professional plan
Mailbox size
You will be able to activate mailboxes with 8, 25, or 50GB storage space. It is not mandatory to have boxes of the same size. On the contrary, one is free to activate mailboxes of different sizes among the options provided.

Calendar implementation
Your Webmail comes with a Calendar module, as well as Mail and Contacts. You will find some preset calendars that you can choose whether to show or not, including a personal one and the holiday calendar, which is set according to the location indicated in your settings.

Personal and Shared Calendars
You can create additional calendars and choose whether to share them with your colleagues depending on the number of teams or division within your company. At the same time, you can also choose whether or not to subscribe to the calendars that your colleagues have shared with you. This way, you can always be up to date with new events added, meeting invitations, and more.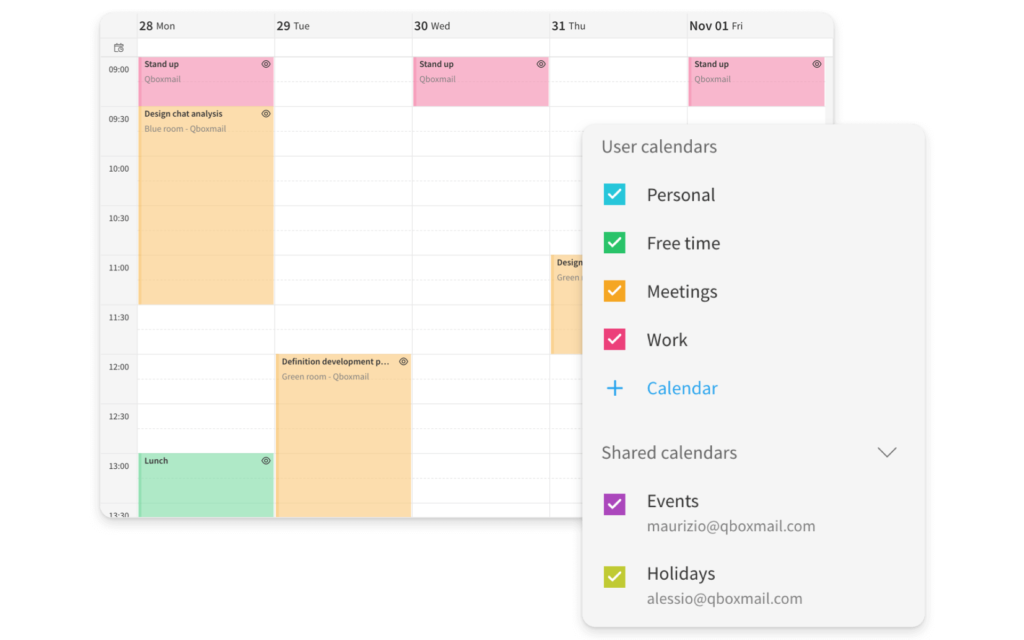 Qboxmail + Zoom integration
By synchronizing Webmail with your Zoom account (either the free or paid version), you can schedule meetings with colleagues, suppliers, customers, or other users simply by adding a new event and selecting Zoom as 'venue'. The system will automatically send an email to all invited participants with date and time scheduled, and a link to follow to connect to the meeting.

Webmail logo customization for domain
From the Panel it will be possible to upload a logo for each domain and this logo will then be displayed within the webmail by users of that domain who will log in.

Security features
Compared to the Basic plan, our Business customer are allowed additional security features, such as disabling password recovery, entering an expiration date for passwords (by specifying a time interval), and disabling access via API.

Complete registry
The Control Panel also allows to add more information regarding a domain and individual email accounts. This information will be that which will auto-fill the Company Address Book within the Contacts section of the Webmail.

CarDAV and CalDAV protocols
Thanks to these two protocols, you will be able to synchronize contacts and calendars with clients or, by downloading an external plugin, even with the smartphone.

Centralized signature management
This feature allows you to create coordinated email signatures that will make your corporate identity stand out through. Everything is set automatically through API, so your collaborators or employees don't need to think about it.
Find out all the details of the plans
How to activate the Professional plan on a domain
You can activate the Professional plan at a domain level, so all the mailboxes of a domain will have access to the same functionalities expected for that plan.
If you have a monthly plan…
You can upgrade plans independently by going to Control Panel > Domains > click on the domain > Settings > General > Plan Management > select the Professional plan > Save.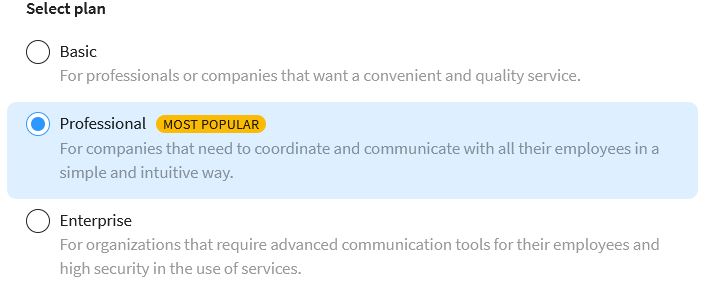 If you have an annual plan…
We invite you to contact us via Ticket to make a plan change. The operation is quick and you can start using your Professional plan almost immediately.
If you have questions or need more information, contact us at info@qboxmail.com