With the release of version 1.1.8 of the Webmail, desktop push notifications were introduced when new email messages arrived.
This is a fundamental step for Qboxmail because it is precisely with this new feature that users will find in Webmail a better companion for their work.
What are browser notifications?
A "push" notification, in our specific case of emails, is a warning that appears on the user's desktop to alert him of the presence of a new message in his email account, usually showing him the sender, the subject and a preview of the message.
Users are used to viewing email client notifications such as Outlook or Thunderbird, but only a few providers offer push notifications via Webmail.
Qboxmail Webmail fully supports push notifications for new emails.
Why are notifications important?
On the one hand, they make the user experience more similar to that of a traditional email client, by notifying the user of the arrival of an email without him having to worry about constantly checking the browser window.
On the other side there is the Webmail, a smarter tool, which allows you to access your email account even remotely and in Smart Working.
Entering your company email account from the office, home and smartphone, without changing the user experience and without configuring anything, is what companies and users are looking for, especially in this period of changes in where the perimeter of the company is no longer just the walls of the office, but also the homes of users.
When does a notification arrive?
Once enabled, notifications arrive when you receive a new message:
if you have the browser open with the Webmail open
if you have the browser hidden with the Webmail open
if you have the browser open even without the Webmail window open
How do you enable browser notifications?
If you already use Webmail
Make sure you have at least version 1.1.8 of the Webmail and log in.
Go to General Settings > Notifications and enable the Enable Browser Notifications checkbox.

Once you change this setting, you consent to webmail.qboxmail.com receiving notifications.

Finally, make sure that your browser has saved the consent given, usually by clicking on the lock icon in the address bar.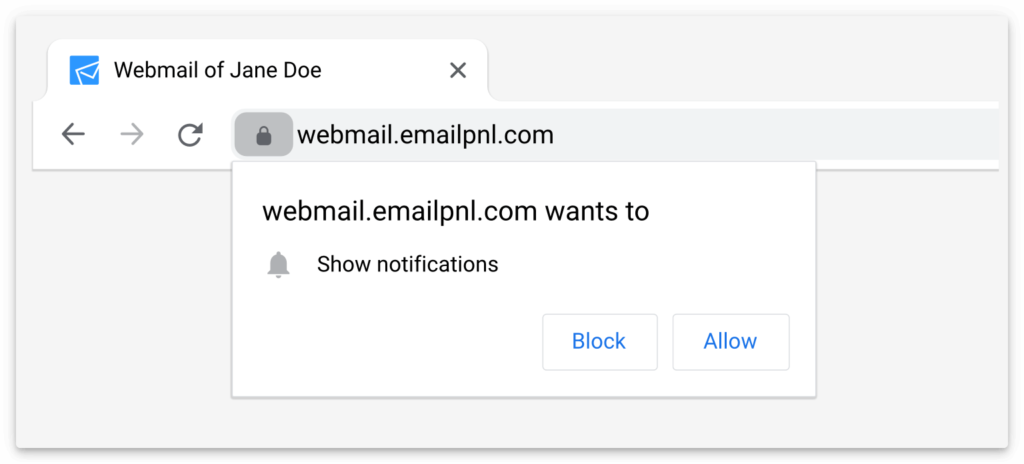 If it's your first access to Webmail
Enter your credentials and complete the initial settings saves.
Once you enter your email account, the browser will ask you to consent to the receipt of notifications by webmail.qboxmail.com.

Give consent and make sure that in Webmail Settings > General > Notifications > Enable browser notifications is enabled.

Which browsers support Webmail notifications?
You will be able to enable notifications for the following browsers:
Mozilla Firefox
Google Chrome
Microsoft Edge
Opera
Brave
Safari is not currently supported but it should be in the coming months when Apple releases a compatibility update.